Update 2015-03-01: by popular demand, IGES files for the top and bottom bulb mould. Use at your own risk.
bulb Dated 2003-05-01. If you don't have a CAD program that opens these, you can use an online IGES viewer to view the files.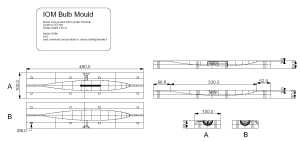 Our bulb moulds are CNC milled from aluminium and more than 15 bulbs have been made successfully from them.
Note that it could be useful to make the hole through which lead is poured in a little larger than shown on the plan.