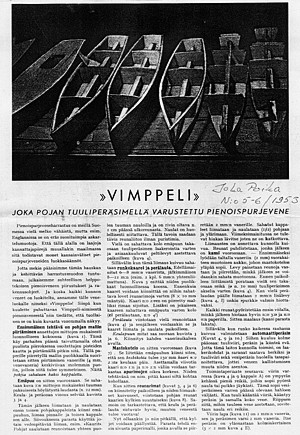 I've started a new 'Articles' section which will feature articles that I've collected. I expect they will be mostly radio sailing related, some in english, some in finnish or swedish.
This article, a piece of Finnish model yachting history published in a magazine called Joka Poika in 1953, is a plan and a building guide for a vane steered model yacht. At the end of the article an upcoming finnish championship with more than 20 of these boats taking part is described !
Thanks to Risto Tomminen for sending me this article. Risto had one of these boats and took part in the finnish championship in 1955.
Click the picture to download the pdf file (3 Mb).