Some orienteering maps I haven't had time to post before now.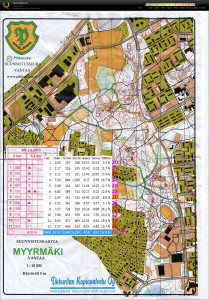 1.5.2013 Myrbacka. Overall very good orienteering on a fairly easy course.
#3 lost a few seconds looking for the control at a big stone when in fact it was a hill
#9 should have found a quicker/better route on top of the hill at #5
#11 slow out of #10 since I did not find the path immediately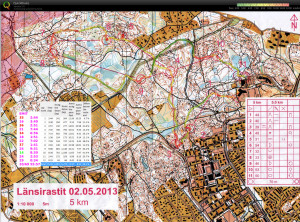 2.5.2013 Olars. Again quite good! Maybe slightly harder course.
#1 maybe a bit too careful at the start
#3 very slow close to the control - went for the wrong feature inside the control-circle
#7 did not have very good control/feel for the distance along the #6-#7 path. should have kept up speed better along the path.
#10 amazingly, the huge detour right around the hill resulted in the best leg on this course! Fast running on the road/path, then very carefully into the control which looked hard to find on the map.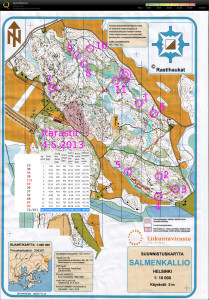 4.5.2013 Salmenkallio. Ugh - many mistakes (five out of twelve legs) - and they were out of maps so had to use a hand-drawn map.
#3 circling around as I was looking for the control on top of a ridge or at a saddle, when in fact it was much lower down. Wrong interpretation of height contours..
#5 BIG problems. It should have been easy to run along the path and look for the right cliff features on the right and find the control 50m from the path. I managed to climb the hill much too soon and circle around on top of it. Dead last in the split-times!


#6 veering off compass course to the right, which resulted in unnecessary distance. Blue line shows a better direction.
#11 somehow I was afraid of the green area and decided to run around it, but made a much bigger loop than necessary. Should have run right through(blue line) the green thick area!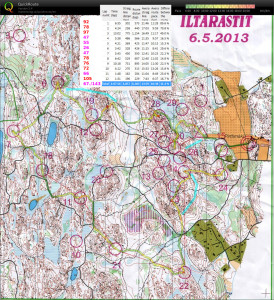 6.5.2013, Pirttibacka. This should have been a familiar map... but made bigger mistakes on three out of twelve legs. (numbers refer to the control-codes on the map)
#30 Aaargh! How is it possible to start towards the first control at 90-degrees to the right direction??
#6 wanted to run along the path and find the less steep opening in the hill (blue-line). Didn't run far enough and instead circled around #19
#14 my route is direct but the second half is slow going through an area with many details. The blue line probably shows a route which is easier and more fool-proof to implement.