This week the plan was to do the last 20+ km run before the Helsinki marathon, which is in three weeks on 14 Aug 2010. But since I was in the region and there was a race, I did the Jakob half-marathon instead. Results and info at http://jakob-marathon.net/
This is a small event with 4-500 runners, so less walking, pushing, and passing in the beginning than at HCR or Forssa. I didn't really set a time-goal, just ran in the beginning at a pace that felt right, which today was around 5:11 to 5:20/km. There were four drinking stations at a little after 4, 8, 12, and 16 km which show up as slightly slower kilometers in the data. Towards the end a few faster kilometers would have maybe allowed a sub 1:50 time.
The grey background shows roughly the level of detail which google earth/maps provides in this part of the country...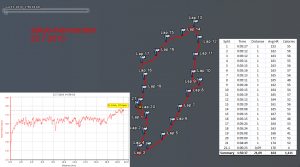 "He de maraton e noo flaka beta!"
By popular demand, an openstreetmap rendering. Fiddled around with the openstreetmap.org website but could not get it to display my GPS trace on top of the map. When searching for "gps" ubuntu suggests tangoGPS, but that doesn't reder gpx-traces either. Then downloaded and installed Merkaartor, which does show gpx-traces after clicking around for a bit to learn how it works. At a zoom level which shows the whole route Merkaartor doesn't show individual streets, so I zoomed in a bit, exported two bitmaps (top/bottom) from Merkaartor, and manually stitched them together in GIMP.