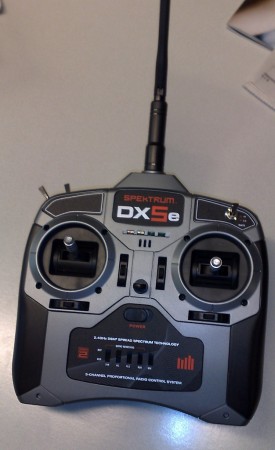 This is now my third 2.4 GHz radio after first having used a special module on the Futaba 3VCS, and then a Spektrum DX6 with the Noux (now sold). It's the cheapest model, a DX5E, which will be used with my newest boat (soon to be featured on this site...).
It seems the Spektrum engineers are not reading this blog too keenly, I suggested an internal antenna back in 2007. Even if the antenna is short I don't like it sticking out of the transmitter, so the first thing to do with the brand-new radio is to open it!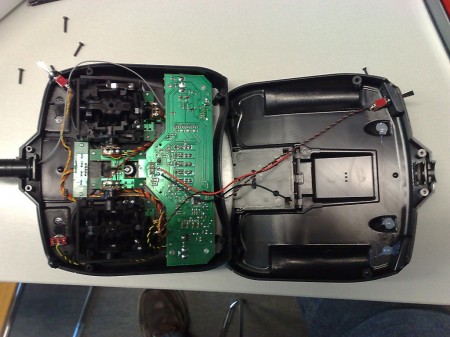 Here's how the transmitter looks opened. Note the small battery compartment which only takes 4 AA-cells (down from 8 in the early days and 6 on the older DX6). There's plenty of room for the antenna at the top of the transmitter, but just outside the top edge there's a metal carrying handle which I thought wasn't the best thing to have close to the antenna. So off it goes: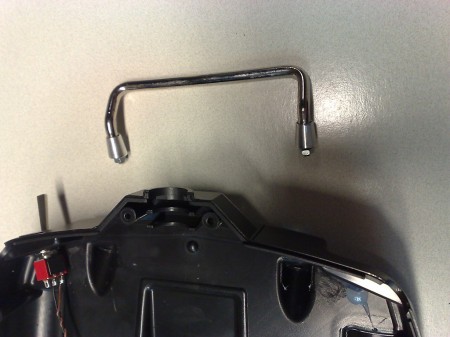 The handle detaches by opening two nuts on the inside of the case, after cutting a way some hot-glue which was used to secure the nuts.
Then the antenna needs to be made a bit smaller. What sticks out of the transmitter is actually first an empty plastic tube which just extends the antenna itself a little further from the case. By cutting away the small plastic bits that prevents the antenna from rotating 360-degrees it all disassambles nicely, and I'm left with the narrow coax-cable and the antenna: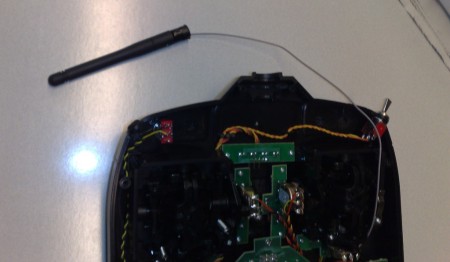 The antenna can now be hot-glued to the top of the back casing: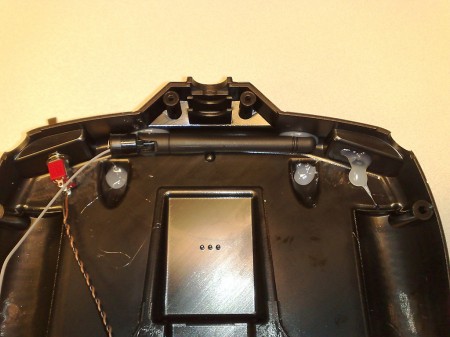 I've also applied some hot-glue to the holes where the handle was attached. Now all that remains is to close the case again, making sure that no wires are caught between the casing or screws: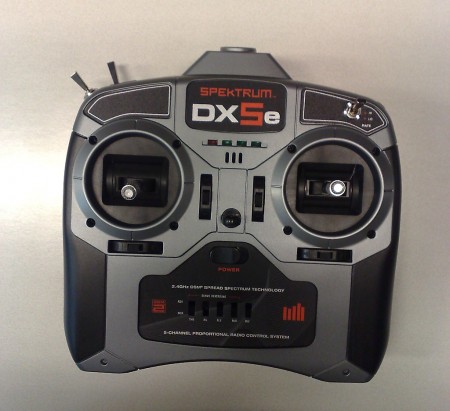 And we have ourselves a Tx with an internal antenna! The way it should have been designed in the first place - if you ask me. What remains is to tape or plug the old antenna opening. Previously I've had no range or other problems whatsoever with this kind of arrangement, but naturally I take no responsibility if you try this and void your warranty and damage your transmitter.