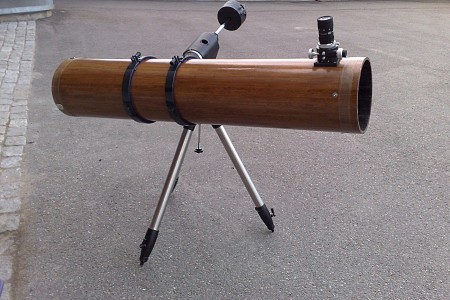 After 11 months in the making, July 2nd 2009 will be the historical date to remember when our 240 mm Newtonian saw First Light! July is not dark at all in Finland, but that didn't prevent us from setting up in the back-yard to have a look at the moon. Predictably the clouds soon rolled in, and the first light picture shows trees. Apologies for the poor quality, a snapshot with my N95 phone-camera through the eyepiece: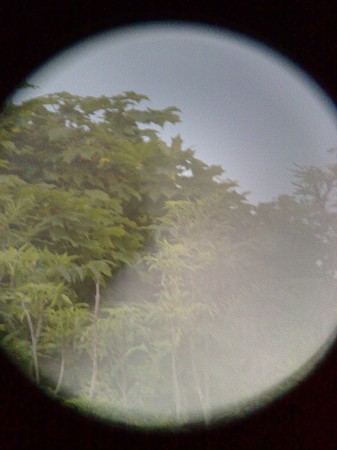 Nevertheless, spirits were high as we earlier during the day with doubts in our minds had bravely drilled holes in the pristine wood-tube for the focuser and the 2ndary-spider. We were not 100% sure that the image would be nice or the focus-plane at the correct position - but everything seems to have turned out OK!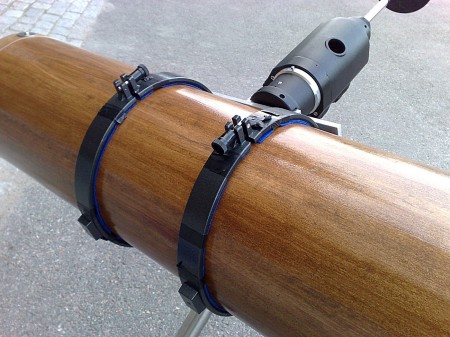 This picture shows the 300 mm telescope-rings. They are now quite close together and we plan on making a wider support for them. We needed to add two layers of felt-cloth under them to get a nice fit. This scope is much heavier than the 80ED, and it's immediately clear that an EQ6-class mount is not overkill at all.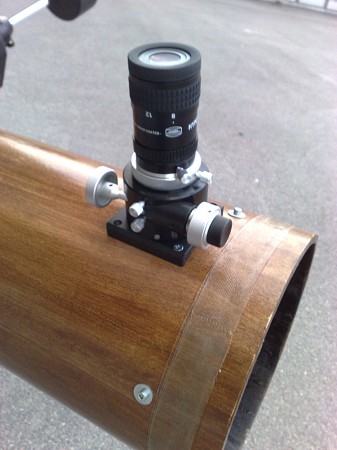 The 2-speed Crayford focuser with a 2" to 1.25" converter and an 8-24 mm click-stop zoom eyepiece. The grey ring around the scope is a 40 mm glassfiber band which was added to both ends of the tube as reinforcement. Two bolts that hold the spider in place are visible, one under the focuser and one just above the black fine-focus wheel.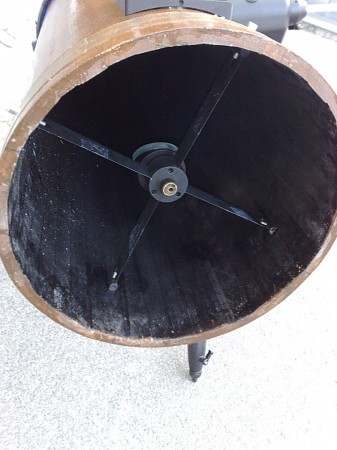 The front end of the tube with the spider holding the secondary mirror. The inside of the tube was spray-painted black once, but we may still improve on that later.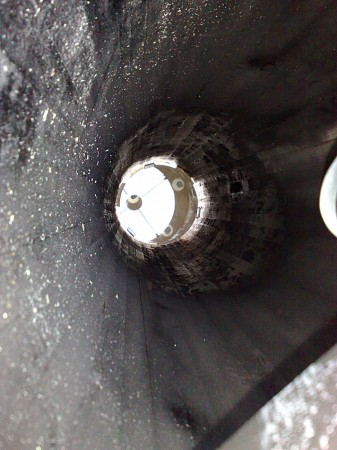 A look inside the tube. At the bottom we see the parabolic 240 mm primary mirror,  still uncoated, so it only reflects about 4 % of incoming light. Through the right edge of the mirror the mirror-mount and the collimation bolts are visible. An image of the secondary mirror is visible to the left.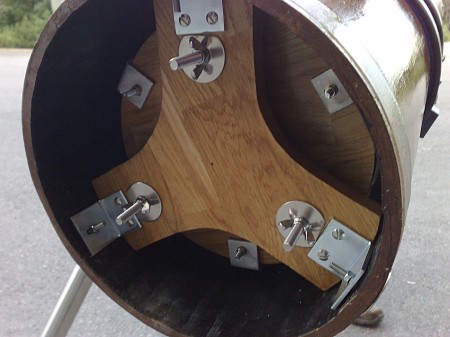 The back-end of the tube holds the primary mirror mount. This consists of two wooden boards, one bolted to the tube with three L-shaped fittings, and the other 'floating' on top supported by three spring-loaded collimation bolts. The three wing-nuts are used for collimation.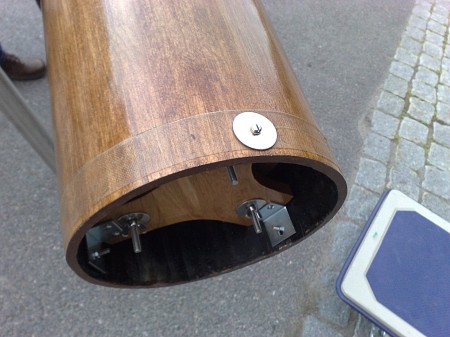 Another view of the back end of the scope which shows the glassfiber reinforcement, and big washers used to spread the load of the primary mirror mount.