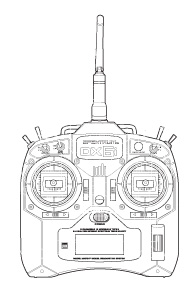 Spektrum recently introduced an updated version of the DX6: the DX6i. Horizon Hobby also has an article on the new radio.
This one uses 'DSM2' technology which is described as giving 'full range'. Not sure what that means, but range should be better than with the first generation of 2.4 GHz radios, which at times was problematic (if you did something specific that cut down on the range).
I think the original DX6 was more or less a carbon copy of an existing JR transmitter, but the DX6i seems to be a new ergonomic design. Instead of buttons for navigating the menu it has a roller-device, and there's a new bigger LCD for programming.
The antenna still sticks out at the top even though nobody has had a mobile phone with an external antenna in years. I've mounted the antenna on my own DX6 inside the plastic case and it seems to work fine. I predict and hope that the next version in 1-2 years from spektrum will have the antenna mounted inside the Tx (no fear of breaking it, no problems with leaking rain-covers).
It's going to be in stores in December, for around $180 without servos, which is similar to what the 6-channel 2.4 GHz Futaba sells for.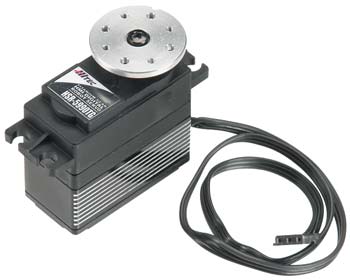 HiTec has replaced their previous robot servo (HSR-5995, now discontinued) with a new version called HSR-5990. The specifications are roughly the same as for the old model: torque is 24.0 or 30.0 kg.cm depending on if you use a 6 V or 7.4 V battery, but speed is down a bit from 0.15s/60deg to 0.17s/60deg (6 V). The gears are Titanium alloy, and as is visible from the picture the new servo adds a heat-sink to the casing.
Maybe this is the winch for my next boat? At a cost around $110, weight of 68 grams, and 'ludicrous speed', it looks like a strong alternative to a drum-winch. Anyone have good or bad experiences with the 5995 or the new 5990?