If you number the octants in an octree using a 1982 scheme called Gargantini-code, and store the codes for only the black nodes in the tree in a list then that's called a linear octree.
For quadtrees, there is a 1985 paper by Bauer with an algorithm for computing set-operations (intersection, union, difference) between two trees. Ten years later Jiang corrected a few mistakes and extended this algorithm to octrees. Neither paper is free of misprints, but by looking at both I seem to have arrived at set-operations which work.
Pushing lists with 10 000 or more elements back and forth between C++ and python is not very fast, and I'm now rendering each node (a cube) in a tree as a separate Cube-object in VTK, which isn't very efficient. The video shows depth 6 trees at the end, and here's a screen-capture of a depth 7 tree: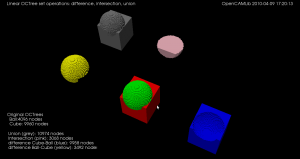 This could be useful for making a cutting-simulator used for both verifying CAM-algorithms in opencamlib, and G-code produced by other programs. It's probably possible to hook into the EMC2interpreter and have it drive the tool in the simulation.