I remember a quote from MMI some years back on the IOM "there's nothing wrong with it another metre wouldn't put right!". Well the days of the A-boat and 10-Raters are pretty much gone in most countries, and now there are a number of sub-1-metre boats or kits becoming popular. Some are popular in great numbers, like the Micro Magic (see my post from Feb 2007). Here are two home-built boats/boat-types I've been notified of lately: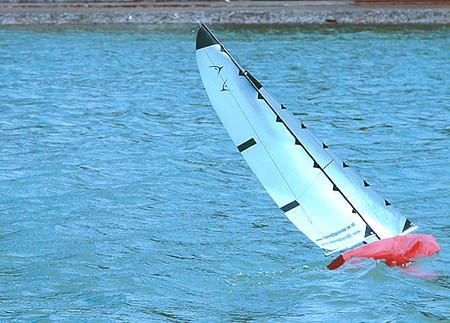 This one is 750 mm long, comes from NZL, and is called a Racing Sparrow. The website looks exceptionally good with a lot of information, pictures, and downloadable plans. Designer Bryn Heveldt has also written a book, available on Amazon, about building the boat. There's a YouTube video here.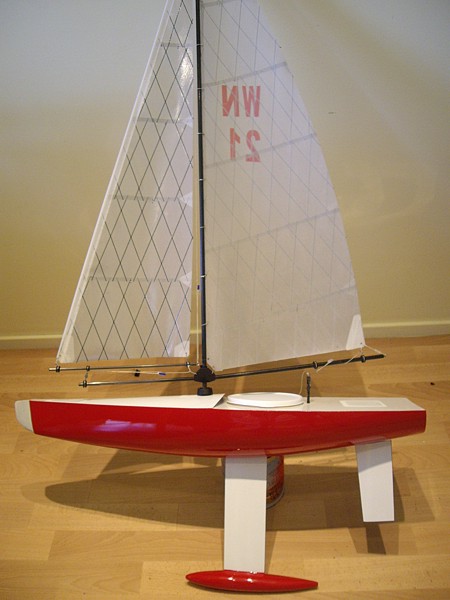 This is a Strathclyde 70 class (does the class have other 'homepages'?) boat, also around 700 mm long, planked in balsa by Peter Trimmer (AUS). It's actually a 70 % scaled down version of the Laerke IOM.
I wonder how these boats sail? I've sailed a MicroMagic a couple of times, so if anyone can comment and compare these two to a MicroMagic or an IOM I'd be interested. Do people really want the 1+ metre boats, or is racing just as fun with a smaller cheaper boat?
As before I would predict that any class that aims to be popular needs to have good availability of boats. There are a lot of MicroMagics and RC-Lasers around because you can buy them (more or less cheaply) over the counter at the hobby shop. It's just a shame that usually the designs and class rules of home-builders and accomplished radio-sailors (you know, the ones who still have their A's and 10R's in the basement) seldom meet with the needs/requirements of people who are able to mass-produce a boat. I think currently there is no commercially mass-produced kit or ready-made boat sold that fits in any international class (A, 10R, M, IOM) ? The Windstar probably comes close, but I understand it requires a lot of modifications before it's competitive with a standard IOM.
I've toyed with some ideas around IOM-production, but it's not likely that 2008 will see major progress (too much else to do...). If anyone has some news or ideas let me know! Now it looks like we will have MicroMagic sailing at both the Helsinki Boatshow (Feb 08) and the Helsinki Model Expo (Apr 08) - and I did sort of promise last year that I would turn up with a boat of my own in 2008...
Update: There's an article in the latest Model Yachting magazine about Jon Elmaleh's latest project the Twang IOM. It's going to be mass produced and will hopefully be available in the summer of 2008. No word on Jon's site yet...