Without much training and without any time goal I participated in the Jakob half-marathon.
Up to 10 km things went smoothly. Then the steady uphill towards 11 km felt quite tough, although I sort of kept up the pace until about 14 km. From there it was a fight with a bit of walking now and then... The steady slow-down towards the finish shows in my 5k splits: 26:23, 27:25, 28:51, and 30:16. For comparison in 2012 on this course my 5k splits were: 23:47, 24:17, 24:20, and 24:09 - very steady and not slowing towards the end.
Here's a chart with the min/km times from the half-marathons I've run.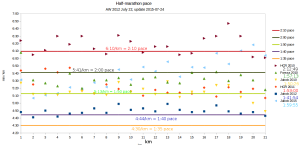 Next year I must remember to do one or two 90-120 minute training runs per month and things will go much smoother...