The Atom C255X is becoming a popular processor in not-so-demanding low power boxes.
Here's a pfsense SG-4860 router/firewall using a C2558 (15W) processor and 8 Gb of RAM. It comes with 4 Gb of on-board flash storage, so the external mSATA drive (lower edge, just above the Ethernet connectors) is not required unless you need to store very big pfsense logfiles. No moving parts, passive cooling only. Although pfsense-branded (running FreeBSD + pfsense), under the hood it's probably an ADI Engineering RCC-VE.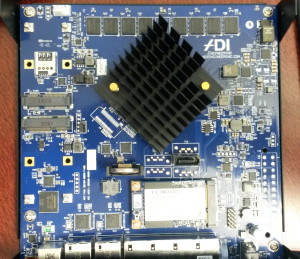 Here's a SuperMicro 5018A-MLTN4 with a C2550 (14W) processor in a 1U 19" rack enclosure. SSD drive and 8 Gb of RAM. I suspect the front fan is quite overkill and could be slowed down a lot or completely removed. The built-in graphics produce not-so-great performance under Ubuntu, but with lubuntu-desktop it's usable as a lab server that you need to configure or check only once a week or so.