About 95k biked this week, which brings the grand total for 2011 up to 2000 km, or two million meters. Yay!
Here's a graph: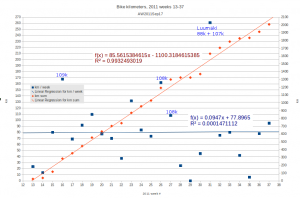 This shows that I have been riding about 85k per week from week 13 until now (week 37). The three >100k rides to/from Tammisaari show up as peaks, as well as the 2-day Luumäki trip. Week 29 is the only one with zero km's, because of the 24h rogaining trip/event. Extrapolating until the end of the year a 85k/week rate will bring the total over 3000 km, but we'll see how tough it gets with ice, snow, and winter-tires...
On the running side of things it would be nice to get up to 1000 km again, but I'm now about 50-70k behind last years schedule.