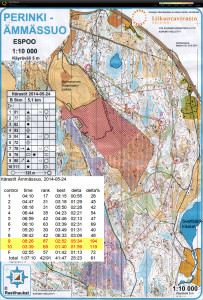 Really hot yesterday - more or less 50% walking from #3 onwards...
#1-#2 OK
Just before #3 should have stayed on the white area - it was slower to cross the yellow open area.
#4-#5 OK
#6 a bit surprised to see the control so soon - did not have a good idea of where I left the road.
#7-#8 OKish (down the hill from #7 perhaps a more direct line over the wet/slow blue area would have been faster)
#9 was going OK all the way into the control-circle, but then went for the wrong group of stones and spent about 3-4 minutes extra here.
#10-F easy but quite tired and dehydrated at this point. Should bring water for 60+ minutes of running in the heat!
Firmaliiga at Pirttimäki on Tuesday is next.