The DSM system by Spektrum RC (www.spektrumrc.com) is a new and exciting development.
I got my RF-module and receiver ahead of the radio that I have also ordered so I have time to inspect the DSM parts before trying them out...

Receiver
The lower card: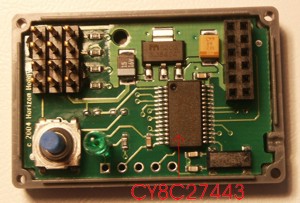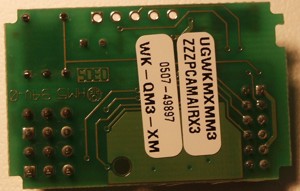 The upper card: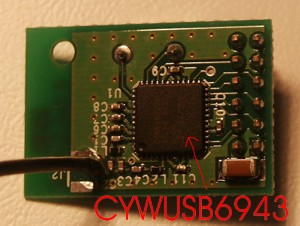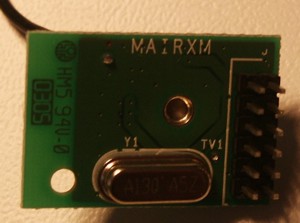 There are essentially two ICs with a bit of gluelogic in-between.
Closest to the antenna, on the "upper-deck" PCB, there is a Cypress semiconductors CYWUSB6934. From the datasheet:
"The CYWUSB6932/CYWUSB6934 Integrated Circuits (ICs) are highly integrated 2.4-GHz Direct Sequence Spread Spectrum (DSSS) Radio System-on-Chip (SoC) ICs. From the Serial Peripheral Interface (SPI) to the antenna, these ICs are single-chip 2.4-GHz DSSS Gaussian Frequency Shift Keying (GFSK) baseband modems that connect directly to a microcontroller via simple serial interface."
2.4-GHz radio transceiver
Operates in the unlicensed Industrial, Scientific, and Medical (ISM) band (2.4 GHz-2.483 GHz)
-90-dBm receive sensitivity
Up to 0 dBm output power
Range of up to 10 meters or more
Data throughput of up to 62.5 kbits/sec
Highly integrated low cost, minimal number of external components required
Dual DSSS reconfigurable baseband correlators
SPI microcontroller interface (up to 2-MHz data rate)
13-MHz ± 50-ppm input clock operation
Low standby current < 1 µA
Integrated 30-bit Manufacturing ID
Operating voltage from 2.7V to 3.6V
Operating temperature from 0° to 70°C
Offered in a small footprint 48 Quad Flat Pack No Leads (QFN)
about 6 USD in larger quantities
Reading the datasheet it seems that this chip does not contain very much "intelligence". You input the data you want to send on the SPI bus and then this IC transmits the data (with settings set by various other pins).
On the lower-deck, closer to the servo inputs there is a Cypress semiconductors CY8C27443. This is the brain of the receiver, it's a microcontroller which also has some analog circuitry onboard. Features include (complete datasheet available from the Cypress website):
Powerful Harvard Architecture Processor
M8C Processor Speeds to 24 MHz
8x8 Multiply, 32-Bit Accumulate
3.0 to 5.25V Operating Voltage
Industrial Temperature Range: -40°C to +85°C
Advanced Peripherals (PSoC Blocks)
Up to 14-Bit ADCs
Up to 9-Bit DACs
Programmable Gain Amplifiers
Programmable Filters and Comparators
8 Digital PSoC Blocks Provide:
8- to 32-Bit Timers, Counters, and PWMs
CRC and PRS Modules
Up to 2 Full-Duplex UARTs
Multiple SPI(TM) Masters or Slaves
Precision, Programmable Clocking
Internal 2.5% 24/48 MHz Oscillator
24/48 MHz with Optional 32 kHz Crystal
Optional External Oscillator, up to 24 MHz
Internal Oscillator for Watchdog and Sleep
Flexible On-Chip Memory
16K Flash Program Storage 50,000 Erase/ Write Cycles
256 Bytes SRAM Data Storage
In-System Serial Programming (ISSP(TM))
Complete Development Tools
Free Development Software (PSoC(TM) Designer)
Full-Featured, In-Circuit Emulator and Programmer
Full Speed Emulation
Complex Breakpoint Structure
128K Trace Memory
Cost ca 3 USD in large quantities
Very nice that the compiler and software develompent kit are available for free ! How long before someone makes an Open Source DSM receiver/transmitter system ? 🙂
TX Module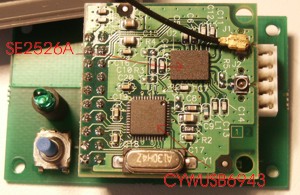 This is also a double-deck design. The lower card has the same CY8C27443 microcontroller and a LM2937 3.3V voltage regulator + the LED and the bind button.
The upper card also has the same CYWUSB6943 RF-chip but in addition there's a SiGe semiconductors SE2526A 2.4GHz Power Amplifier:
Dual Mode IEEE802.11b & IEEE802.11g
All RF ports matched to 50 Ω
Integrated PA, TX Filter, T/R and Diversity switch
Integrated high performance power detector
20 dBm O/P Power, 802.11b, 11 Mbps @ 225 mA and ACPR-1 = -37 dBc, ACPR-2 = -56 dBc
18 dBm O/P Power, 802.11g, EVM = 2.5 %, 54 Mbps @ 185 mA
Single supply voltage: 2.7 V to 3.6 V
Exceptional temperature stability
Small MSL3 package (5.5 mm x 7.0 mm x 1.2 mm)
cost about 2 USD in large quantities.
Conclusions
The TX module uses a CY8C27443 microcontroller (2 USD) which receives commands from the transmitter and sends them on to the CYWUSB6934 (ca 6 USD ?) which transmits them using the DSSS system on 2.4 GHz. To boost the signal there is a SE2526A (2 USD) power amplifier before the antenna.
I wonder why there are two coaxial antenna outputs on the TX module ?
Update 2005 Jun 3:
A fried of mine explained this: WLAN (WiFi) chips and base stations typically have two antenna outputs and two antennas to eliminate multipath fading i.e. interference effects in urban environments that cause loss of signal. If you have two transmitting antennas half a wavelength apart then that eliminates this kind of fading. (you use only one of them at a time, always choosing the better one)
The RX is a simplified version, leaving out the power amplifier. This is probably why binding only works at close range. During the binding process the RX sends back stuff to the TX and this works only at short range since there is no power amplifier in the RX.
So, taking advantage of chips that were probably developed for WLAN use, there is about 10 USD of parts in the TX module and ca 5 USD worth in the RX. This together with some fancy software makes for a great system ! (sold at 160 USD...)
The similarity of the RX antenna connection to the coaxial connector mounted on the TX module suggests that it could be possible to fit a coaxial cable also on the RX and have a normal WLAN antenna some way away from the RX. I think I will have to try this...