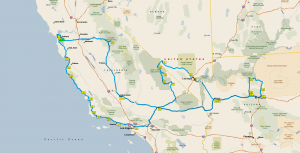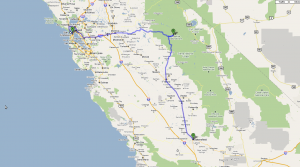 Day1: San Francisco - Yosemite National Park - Bakersfield. 412 miles, 49.8MPG (678 km, 4.72L/100km)
Left San Francisco on 101/North in order to experience Golden Gate Bridge. There is no toll northbound, but if you want back into the city I think it costs 6$. Continuing north on 101 and then 580 east towards Richmond it's time to quickly pick up the pace of California traffic. The bigger roads are filled with cars in four lanes and the speed limit of 55 or 65 MPH is more of a guide-line really, as most everyone at least towards the left lanes is going closer to 70 MPH. Encountered a bit of traffic on Thursday morning driving through  Berkeley and Oakland before leaving the busy cities behind on 580 eastwards. A landscape with a lot of apple-trees and other fruit-farms. Switching to 205/east and then 120/east not much is happening. When you start to get closer to Yosemite there are some serious hills to be driven over/up, at first green with grass, but later more barren with snow and trees. Tioga Pass Road, the mountain road that leads over the mountains and through much of the park is closed for all but a few summer months, so like most car-tourists we only enjoyed the sights of Yosemite valley while driving through the park at a leisurely pace. More of the same kind of mountain road leaving the national park behind on  41/south and then a long flat stretch of highway between Fresno and Bakersfield.
Day 1 pictures: http://picasaweb.google.com/anders.e.e.wallin/Yosemite#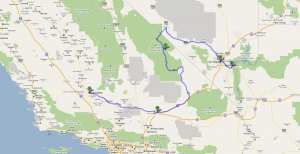 Day 2: Bakersfield - Barstow - Death Valley - Las Vegas - Boulder City. 572 miles 46.7 MPG (920 km, 5.04L/100km)
Not much to say about driving in the desert. For someone coming from a small and mostly flat country like Finland, both the distances and changes in elevation in this part of the world are big. There can be stretches of 50 miles of road without a city or a gas station, and climbs/descents of 1000-2000 or more feet are common. We entered Death Valley on road 127/north from Baker, and had lunch at a small place called Shoshone (population: 52) before driving into the park. Death Valley features the lowest place in continental USA, and road 178/east into the park is a really fun downhill drive. If you're in a Prius that means you'll be charging the battery, and not so much heating the brake-discs. After a stop at Badwater basin, Artists drive, and a few other vista points we ran out of daylight and headed out of the park on 374/north. Road 95/south towards Las Vegas is a bigger road, and Vegas itself features similar busy traffic as in the bay-area. Too poor and not in the mood for gambling, we simply drove down Las Vegas Blvd and watched all the neon-lights, fake facades from the Eiffel-tower to the Sphinx, and the gigantic screens - sometimes in awe, sometimes more in horror.
Day 2 pictures: http://picasaweb.google.com/anders.e.e.wallin/DeathValley#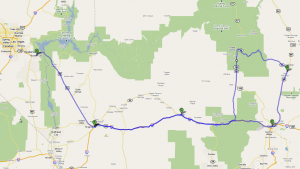 Day 3: Boulder City- Hoover Dam - Kingman - Grand Canyon - Flagstaff - Kingman. 508 miles 47,5 MPG (817 km, 4.95L/100km)
We didn't stop long for Hoover Dam, just to snap a few pictures, and also look at the almost equally impressive new bridge which is under construction. Road 93/south to Kingman is long, flat, and straight, cruise-control definitely recommended! After Kingman we stopped at a small place called Seligman through which route-66 passes. Predictably you can buy anything and everything with a route-66 logo on it: caps, t-shirts, mugs, etc.etc. Gas, water, and food is expensive in these small isolated towns. Google-maps and other programs wants to route you all the way to Flagstaff and north on 89 to enter Grand Canyon on 64/east. However we took the more direct route north from Williams on 64/north. This road climbs steadily, but gives almost no hint of what is to come at the canyon. At Grand Canyon we were slightly unlucky with the weather, since snowfall was coming in from the west. As a result we didn't explore vista-points west of the visitor-center, but instead drove east towards  Desert View, stopping for long or short breaks at interesting places. Although we had all been living and working in a -15 C to -20 C Finland for the past month, the temperature here was close to 0 C with a variable strength wind and our clothing more suitable for a +14C San Francisco, so hot-chocolate and indoor seating was definitely in order once we got to Desert View. The drive out of the park on 64/east leaves the canyon landscape behind gradually, also offering many vista-points. Maybe this is why the map-programs recommend entering the park on this road? On a roadtrip with this many miles per day we had to have two rules: (1) No stopping - it's a roadtrip! and (2) Never turn back. Since we were heading back towards the west we unfortunately had to break rule (2) and go back to Kingman via Flagstaff  which means we drove twice on a stretch between Williams and Kingman on 40/west. By now it was dark, and in temperatures around 0 C at an elevation of 4-5000 feet combined with snow/rainfall meant we took it pretty easy, although the trucks and other heavy traffic did not seem to mind and maintained their typical 70 MPH speed.
Day 3 pictures: http://picasaweb.google.com/anders.e.e.wallin/GrandCanyon#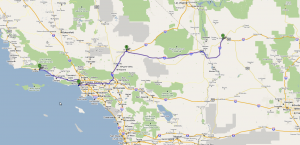 Day 4: Kingman - Barstow - Los Angeles - Santa Barbara. 450 miles 48.5 MPG (725 km, 4.85L/100km)
Stopped for lunch in Barstow, after which the road starts to widen from the typical 2-lane free-way first to 3 lanes, and then more as we approacn San Bernardino on 15/south. Closer to LA on 101 there are traffic jams which suddenly appear out of nowhere, first you are going at 70, then crawling at 10 MPH, and then back to 70 suddenly again. We didn't really have a plan for LA, a mistake in hindsight. At some point we just got bored of 101 and allowed the Hertz Neverlost GPS to route us towards Santa Monica beach on smaller streets of the city instead. Not a bad way to see the city, but not very planned/structured. Sunset on the beach was pretty, and while the locals must feel that +20 C in February is midwinter, for us it feels like a warm summer day. In the dark we drove north on 1 to Santa Barbara for the night. Just as well, since at this point hwy-1 is so big it's not much of a scenic road.
Day 4 pictures: http://picasaweb.google.com/anders.e.e.wallin/KingmanLASB#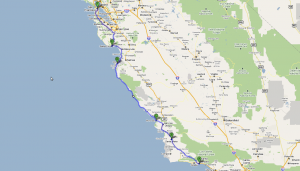 Day 5: Santa Barbara - Morro Bay - Monterey - Santa Cruz - San Francisco. 364 miles 51 MPG (586 km, 4.7L/100km)
In the USA it's important to do your best, win, and get ahead. No wonder there are about forty Number One roads then. The interesting bit of California State Route 1 we got to experience is between Morro Bay and Monterey. Just after Morro Bay there are a couple of places where we saw seals apparently having siesta on the beach or the grass, together with lots of birds. The road is long and winding, but in dry conditions and daylight doesn't feel at all dangerous. Steep cliffs meet the Pacific on our left side while green mountains rise high on our right side. A stop for picnic-lunch at a suitably remote wider part of the road. Looking at the ocean for long enough you notice whales coming up to breathe once in a while! Again a lot of (to us) exotic birds. Closer to Monterey there are more houses, gas-stations, and the road widens again. Monterey to Santa Cruz is again a boring multi-lane highway, and we stopped for seafood dinner on Santa Cruz pier. Even in February there's a flock of surfers in black wet-suits out in the water. In the dark there is no point in continuing along 1, so instead we take the winding 17/north across the mountains to San Jose, then 85 around the city, and 101 northwards to San Francisco. For the uninitiated, driving along at 65+ MPH in the dark with 4-6 lanes of traffic can be a bit intimidating, and it helps to have a co-driver with another pair of alert eyes. The GPS voice-guiding is also good for finding your way, as free-way exits come up fast and often.
Day 5 pictures: http://picasaweb.google.com/anders.e.e.wallin/PacificCoastHighway#
Statistics:
2315 miles, that's 3726 km!
500D camera. With 17-40/4L wide-field lens which mostly produces quite ordinary looking pictures, and a 70-200/4L with which I seem to take much better snapshots.
50 MPG (4.7 L/100km) is a bit optimistic for the Prius in these hilly conditions. I have no doubt that on flatter roads and slightly lower speeds it does well over 50 MPG.
5 days. The mileage per day is really close to the maximum we could handle. Especially on day 3 in Grand Canyon it was apparent everyone had gotten too little sleep. The mileage on this trip also meant that you always start the day with a 3-4 hour drive, and only arrive at your destination around noon or later. That limits your daylight hours on-site, as there's not much to do or see in parks after sunset.
4 persons and 2 bags in the car.
3 National Parks.
2 drivers. We also used mainly two GPS-devices: the Hertz Neverlost navigator which came with the car (although we didn't have to pay for it), and also Microsoft's free 60-day trial of Steets & Trips 2010 with an USB GPS-receiver on a 14" laptop. The overview you can get on the 14" screen is simply impossible to achieve with a small navigator screen.
1 Prius. 2010-model. This new model has more horse-power than the earlier models, but some people still say it's underpowered. I think it felt fine, it's just slightly different to drive compared to a normal car. The motor will howl on high RPM when you hit the pedal to accelerate in up-hills.
That's it folks. Thank you for reading if you made it this far. This is mostly from memory and a quick look back on the maps and roads, please feel free to correct me on geography or other things by commenting below!
Anders Wallin
March 5th, 2010.