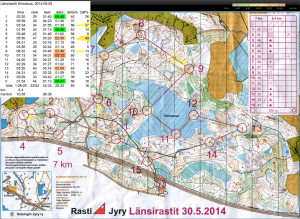 A map where the straightest route was fastest. Many places had cut down trees which were best avoided.
2-3: Drifted too much right, thus my route is unnecessarily long at 137% of the straight-line distance.
5-6: Tried to avoid the slow green area by running on the road/rock, but didn't hit the control and ran past it a bit. Worst split 🙁
8-9: Not much to read/observe on the downslope towards #9. My direction out of #8 is off a bit towards the south and I should have used the big stone and open clearing (circled yellow) as an intermediate checkpoint. Crossed the ditch too much south but found #9 reasonably quickly.