This was measured by taking a H-maser 10MHz signal (output from a frequency distribution amplifier) and splitting it in two for the 3120A REF and DUT channels with a ZFSC-2-1+ passive splitter.
The first measurement is with 50 Hz bandwidth and a duration of 5 minutes. The second measurement is at 5 Hz bandwidth and ran overnight for 12 hours.
Here's the ADEV plot with some typical performance-curves added.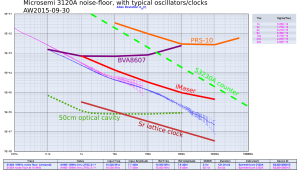 Data from: