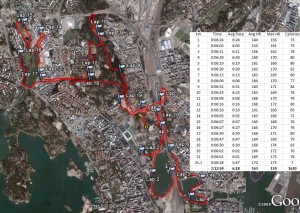 Despite forecasts of rain during the week the weather cooperated nicely and we only got wet after 18 km or so.
At about 14 km my legs started to feel heavy, and after the last gatorade+water station at 17 km I started walking all the uphills.
I finished in 6345th place (yay!) out of 13100 runners, and the timing-chip time was 2:12:56, my own garmin said 2:12:59, and my official time (start-gun to finish) was 2:13:16.
Results and info here: http://www.helsinkicityrun.fi