I ran my 5th and fastest yet half-marathon in 1h 41min 52s (4:49/km) yesterday in Jakobstad.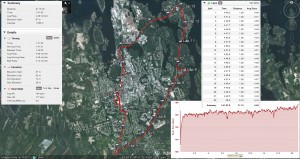 Splits and pace for 5ks: 23:47 (4:45/km) , 24:17 (4:51/km), 24:20 (4:52/km), 24:09 (4:50/km)
Splits and pace for 10ks: 48:04 (4:48/km) , 48:29 (4:51/km)
The first 5k was maybe slightly too fast, but the last kilometer from 20k to 21k was the fastest, 4:43, so that shows there was plenty of energy in the legs at the end.
McMillan's calculator says a 1:42 half-marathon means a 10k should be doable in 45:45, and the full marathon distance in 3:35!
I ran this event in 2010 also.
Here's a graph of the km-pace for the five half-marathons I've run: