A list of the model boats I've owned and sailed.
The MicroMagic is 530 mm long and weighs about 900 g.
An International One Metre (IOM) is 1000 mm long, the mast is about 1600 mm high, and the depth of the keel is 420 mm. The minimum weight is 4 kg.
A Marblehead is bigger, ca 1300 mm length, 500-600 mm depth, and weighs 5-6 kg.
FIN-70, MicroMagic, my first MicroMagic (2009->)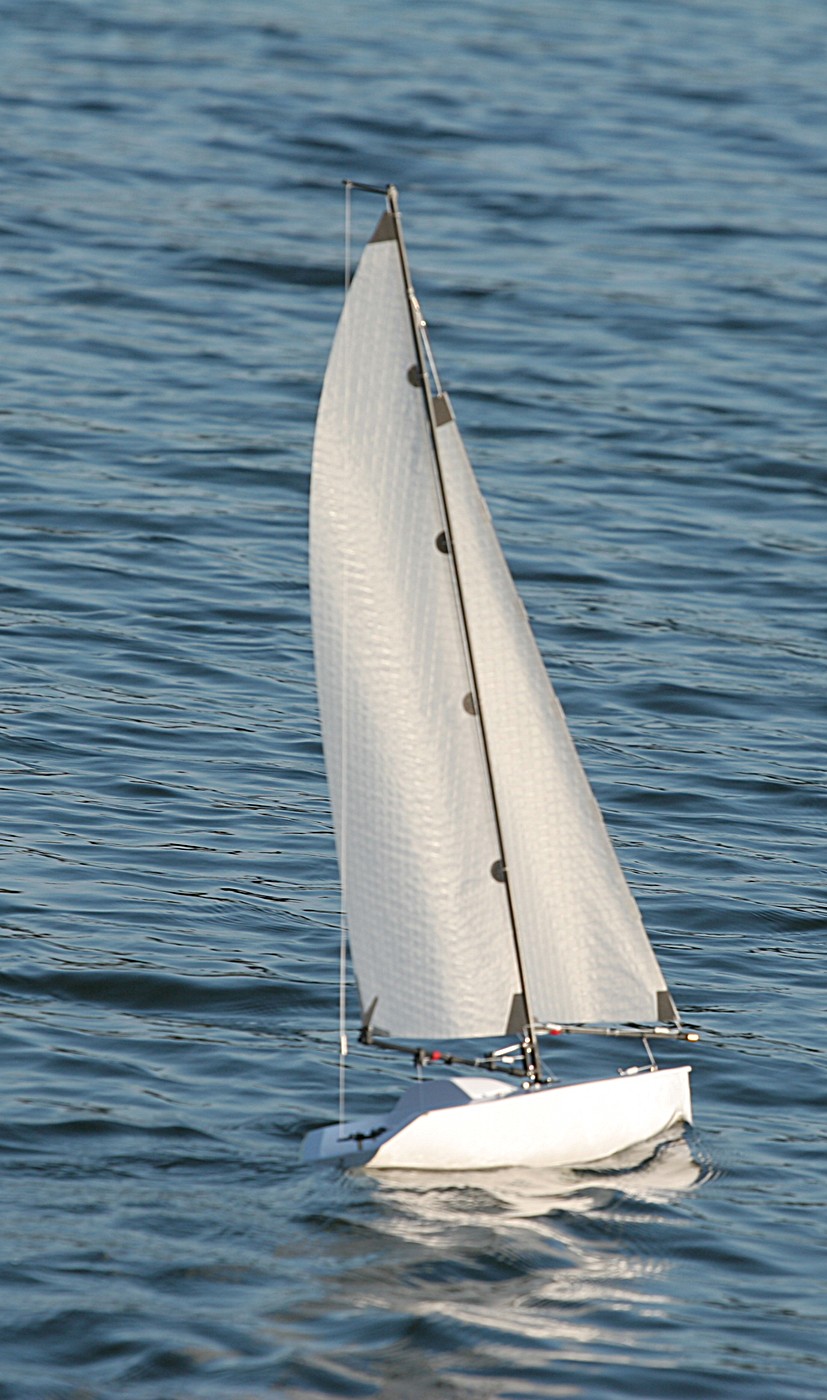 Bought in July 2009 together with a new Spektrum DX5E 2.4 GHz radio set.
FIN-43, Noux Mk2, my fifth IOM (2007-2008)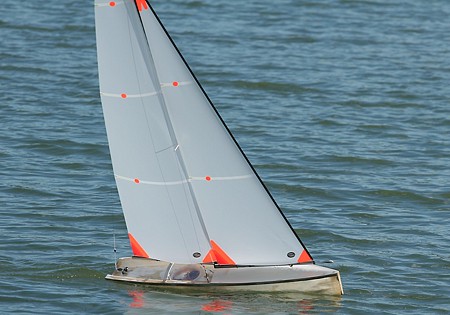 One of the first trial sailing sessions with FIN-43 in July 2007.

Sail number: FIN-43
Design: Noux-2, Wallin/Ginström
This is  the first boat I more or less designed from the ground up, and scratch built myself (with the help of Olof Ginström, Jari Immanen and others). Actually I'm using the original hull from 2002 that was meant to go to Vancouver, but never made it in time. The Noux Mk2 uses the same hull as before, but the deck design and the fin/mastbox are new.
There area a couple of interesting new features:
We're using a new mast-box which allows for large (7-8 mm or so) movement of the mast forward and backward from it's default location. It's vital that the boat balances well on the beat, and we hope this added adjustability will allow us to find optimal positions for all three rigs.
This boat will use the black Easton masts (12.4 mm for the no1 rig and 10.9 mm for 2 & 3). These are a bit stiffer than the tubes I've used previously, so I'm hoping that achieving good forestay tension is going to be easier than before.
I'm using a single round food-container, the same one Craig Smith uses on the Obsession, as the lid/rim for the hatch. No more taping of hatches! This makes the boat easier and faster to setup.
Together with Jari Immanen we've developed a new ball-raced gooseneck fitting. A nice exercise in design and cnc-machining.
Sold to St. Petersburg/Russia in early 2009.
FIN-36, Cockatoo, my fourth IOM (2004-2006)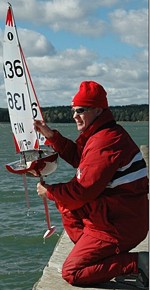 Me and Cockatoo at the Turku ranking event in September 2006.
Sail number: FIN-36
Design: Cockatoo, by Jeff Byerley
Major Events: Arcos Euros 2004 , Mooloolaba Worlds 2005, Phocea Cup 2006
Having seen many well-sailed and well-built Cockatoos in Vancouver, and since there was an opportunity to sell the Italiko, I ordered a Cockatoo in the fall of 2003, and sailed with it during three seasons from 2004 to 2006. It had the somewhat controversial Texalium deck, at Arcos and Mooloolaba I think I was one of the very few skippers that took advantage of the special rule change for allowing Texalium boats. I found the boat easier to trim than the Italiko, and more of an all-round boat.
Sold to a Finnish skipper in late 2006, but the boat quickly emigrated to Norway after that.
FIN-26, Italiko, my third IOM (2003)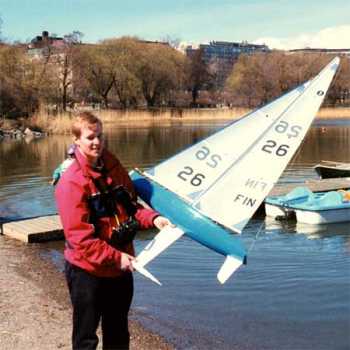 Me and Italiko at the annual Mothers-Day regatta (Töölönnlahti/Helsinki) in May 2003.
Sail number: FIN-26
Design: Italiko, by Graham Bantock/Sails ETC
Major Events: Vancouver Worlds 2003 (MMI Aticle, PM Article),
The first Noux boats were built in the summer of 2002, and my plan was to build one for myself. But building the boats was a fairly slow process, and in January 2003 when I sent my entry form for the Worlds in Vancouver I made a decision to get a proven boat from a proven supplier: an Italiko from SailsETC. The world championships in Vancouver was my first big international event and a big learning experience.
Sold to a skipper in Tampere/Finland in late 2003. In May 2007 I found myself without a boat for the first 2007 Scandinavian Cup event in Oslo Norway. The new owner was kind enough to lend FIN-26 to me for that event - I had fun sailing my old boat and came 3rd.
FIN-10, Ericca, my second IOM (2000-2002)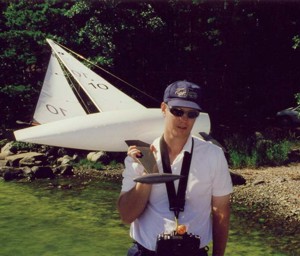 Me and Ericca at the Svartbäck ranking event in September 2001. Note the short (by modern standards) bulb.
Sail number: FIN-10
Design: Ericca, by Martin Firebrace
To jumpstart the IOM class we coordinated a group buy of Ericcas from the UK (creative model makers) in 2000. In hindsigt, getting many boats from an unproven supplier was not the smartest thing to do. Several boats had problems with leaking etc. and the keel was positioned in the wrong place by the builder (against the advice of Martin Firebrace, the designer). To my knowledge the builder did not make very many boats... With a new keel, positioned for better balance, this boat sailed fairly well. Unfortunately this episode prevented me and the other Finnish sailors from ever realizing the potential of the Ericca design, which I'm told by others is excellent.
Sold to a skipper in Turku/Finland.
FIN-2, Widget, my first IOM (1999-2000)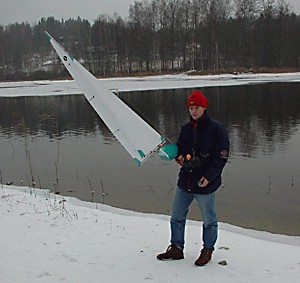 Me and Widget at the Noux lake after one of the first test runs in November 1999.
Sail number: FIN-2
Design: Widget, by Chris Dicks
The first steps for the IOM class in Finland were taken sometime in 1999. Timo Syren bought an Oscar from Peter Wiles in the UK - that became FIN-1. Timo took the Oscar with him to Marblehead events during the summer to find more interested IOM sailors. My gadget from Martin Roberts arrived in the fall and was test sailed in November (picture above). I didn't own this boat for very long, but from what I remember it sailed very well.
FIN-10, MarGo, my second Marblehead (1996 to 2000)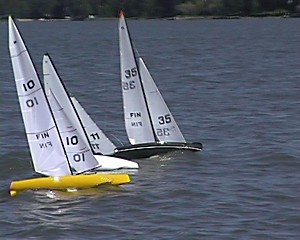 MarGo in the foreground, at Otaniemi ranking event in 2000.
Sail number: FIN-10
Design: MarGo, by Paul Lucas
Built: 200?, Pierre Gonnet
I bought a hull kit from Pierre Gonnet and built the rigs myself (4 swing rigs).
FIN-132, Quantum, my first Marblehead (1994 to 1996)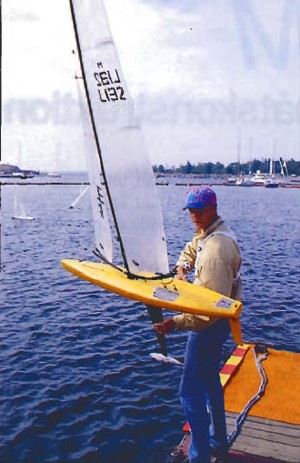 Original builder and owner Jon Estlander with Quantum at the 1991 Marblehead European Championships in Hanko, Finland.
Sail number: FIN-132
Design: Quantum, by Heffe Ericsson
Built: 1990, Jon Estlander (plug/mould by Olof Ginström/Cride Lindholm)
Bought in the summer of 1994, this was my first real model boat. Sailed it in many national ranking events, and some nordic events.