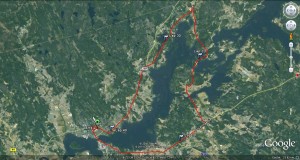 Rautaveden marathon, the last 'big' marathon in the Finnish running calendar, loops around lake rautavesi around 50km west of Tampere. Rogaining and biking earlier in the fall together with a week of flu meant that it was either this event, or possibly Åland a week earlier (but that would have been more of a hassle travel-wise).
The first 9k of the route is quite flat and takes us out of the city and onto the big Tampere road. Almost the whole 9-10 km interval is a big uphill which resulted in a slowish 5m:50s kilometer-time. After that it's a bit of downhill and varied terrain until around 19k (after ski-resort Ellivuori) where there is a big downhill. For me a fast kilometer-time of 5:02 - but as I haven't practiced running downhill much I think my legs got beat in that downhill pretty bad. After that it's more flat/varied until the turn at the top of the map around 26k. This is where my legs were about finished 🙂 I then walked most of the steeper uphills, and some flat-bits too during each kilometer between maybe 32k and 39k. At the end after the last drinking-station at 40k I ran again all the way to the finish for a time of 4h 12min 40s - a new personal best, but not the sub-4h I had maybe hoped for...
Splits for the first and second 20k:
1-20k: 1:49:51 (5:30/km)
21-40k: 2:06:50 (6:21/km)
Or broken down into 10ks: 59min, 2nd 62min, 3rd 67min, and 4th 76min.
1-10k: 54:59 (5:30/km) (HCM: 59m)
11-20k: 54:52 (5:29/km) (HCM: 62m)
21-30k: 1:00:06 (6:01/km) (HCM: 67m)
31-40k: 1:06:44 (6:40/km) (HCM: 76m)
Or broken down into 5ks, and compared to last year's Helsinki City Marathon:
1-5k: 27:13 (5:27/km) (HCM: 29m)
6-10k: 27:46 (5:33/km) (HCM: 30m)
11-15k: 27:29 (5:30/km) (HCM: 30m)
16-20k: 27:23 (5:29/km) (HCM: 31m)
21-25k: 28:57 (5:47/km) (HCM: 33m)
26-30k: 31:09 (6:14/km) (HCM: 34m)
31-35k: 31:27 (6:17/km) (HCM: 36m)
36-40k: 35:17 (7:03/km) (HCM: 40m)
Finally the all important medal: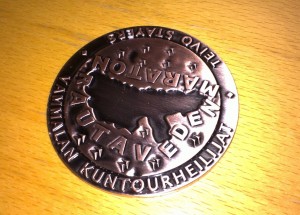 A comparison of the elevation-graph from the organizers website with data from my garmin 405cx. The heart-rate graph clearly shows how hitting "the wall" at 32k results on walking-breaks and a lower heart rate.