I've been cranking out parts for this Crimp-Clamp-Tool over the past few days:
(design inspired by Lindsay Wilson's site, which has more information on the seal-off technique)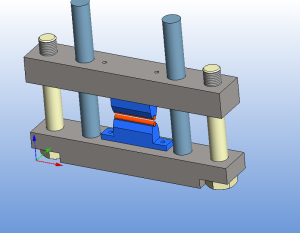 It's used to permanently seal vacuum-systems that are pumped through a ~10 mm diameter copper tube. The jaws of the tool compress the tube and "cold-weld" the tube walls together which seals the tube.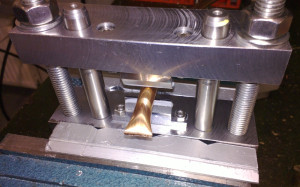 The top and bottom clamps are milled from 20x40 mm steel bar. The bottom clamp has slots that secure two M12x100 bolts in place, and 6mm holes for M6 screws that hold half inch Thorlabs rods that guide the top and bottom clamps. The top clamp has 12mm holes for the bolts, and half inch holes that I opened up with a boring head so the Thorlabs rods (about 12.66 mm diameter) fit accurately.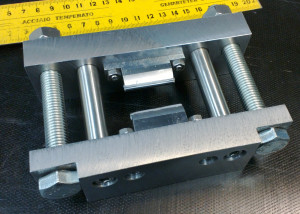 The jaws are 3.125 mm diameter carbide rods (the shaft from old used PCB milling bits). They are held in a V-groove on a rod-holder part that bolts to the top/bottom clamps with M5 screws. I glued the rods to the V-groove with Loctite Hysol.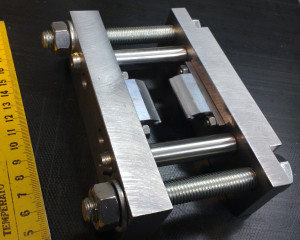 Here's how the crimped tubes look like. The first test resulted in a jagged edge, while the second test produced a nice straight cut. We will test how vacuum-tight these are with a Helium sniffer later.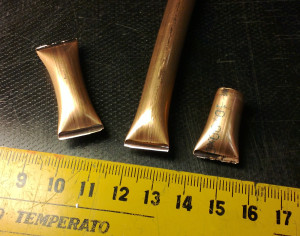 PDF drawings: