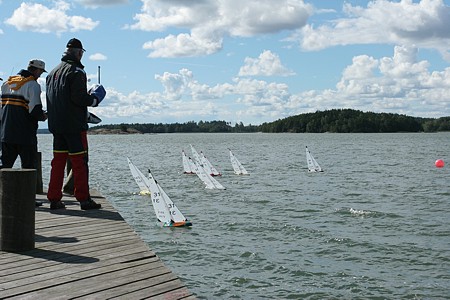 13 skippers (8 FIN, 4 SWE, 1 NOR) competed in race 2 of the Scandinavian Cup 2007 (*) organized by TPS in Turku, Finland during the weekend of 1st and 2nd of September 2007.
Saturday started dramatically with a thunderstorm interrupting race 1, and most boats changing down to no2 rig for the rest of the day. A nice wind direction enabled a long course with skippers being able to walk 1/3 to 1/2 of the course up and down along the pier. 12 races were completed. Saturday was completed with an event dinner with our race-officer Harri Korpela as chief chef.
Sunday began with more wind and some risk for rain. Most skippers started out with no2 rig, but some more or less successful trials were made with no1 rig throughout the day. 12 races were completed.
The winner, Torvald Klem from Norway, sailed the most consistently and only let about six heat-wins slip by. He sailed a new Extreme design from Jeff Byerley/Australia. Only the second time in no2-rig conditions for this boat. Second place Olle Martonen sails a home-built wood/glassfiber TripleCrown, while third place Timo Syren used a SailsETC Italiko, also taking home the Finnish Class Champion title.
A few new boats were also seen on the race-course. Anders Wallin and Eero Laurila sailed Noux Mk2 designs with still a bit of room for improvement on the trimming and manouverability side. A swedish prototype of the Peter Norlin designed IOM (onemeterfun.se) also competed in its first international event.
(*) for some good reason these races are now called "Scandinavian", a word that is about double in length, and geographically incorrect, compared to "Nordic".