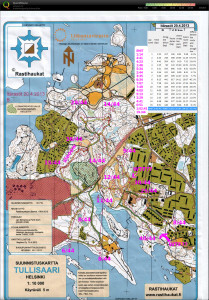 A fairly easy course with lots of running along roads and paths.
Right at the beginning on #2 I searched for it on the wrong hill - on the wrong side of the road/path ?!?
#3-#4-#5-#6-#7 nothing to report. Running speed is enough for top-10 placings 🙂
#8 the GPS-path looks ok but speed was slow.
#9 right after #8 the compass seemed to just rotate around and I wasn't confident enough to run by the map alone. Very slow and shaky going to #9.
#10-#11-#12 more fitness required to keep up speed in the forest and uphills
#13 again an easier control and better speed
#14 lost concentration and headed in the wrong direction. Lots of open areas with freshly cut trees (compare to 2012 map)- hard to tell how well the map corresponded to reality here.