Last orienteering run before Jukola - maybe mistakes made now means there are none left in the bag for Jukola?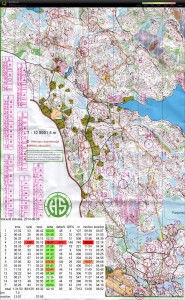 K-1-2 nothing special. #2 is best split.
3 more north out of #2 would have been less steep downhill, and would have found the road sooner.
4 crazy mistake although I was inside the control circle on 2 or 3 occasions..
5-6-7-8 nothing special
9 split is slow but GPS-trace follows line OKish. Maybe a little south would have been faster.
10-11-12 OKish, but there is no excuse for not running straight along the 11-12 line.
13 came up from the flat "Punjonsuo" a little more left than had planned, but was easily on the map again.