By popular demand, drawings for the iOptron MiniTower Equatorial Wedge project I completed in 2010 August-September (see old blog posts: base, top, side, knobs)
Here's how the wedge looks like. It consists of a fixed plate that attaches to the tripod, two fixed side plates that bolt to the bottom plate, and a moving plate that tilts about 10 degrees. The wedge is designed so that the centre of gravity of the MiniTower is positioned straight over the middle of the tripod.
The extra 6mm hole in the side-plates is for an M6 threaded rod through the mount which should provide precise azimuth-adjustment. I did not complete this feature (for example a rotating nut in the fixed plate would be needed).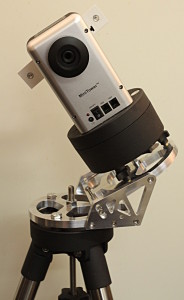 PDF drawings: