Pete Trimmer has been busy finishing his boat and sent me some pictures of his progress: "Well the FAT NOUX now looks more like a boat than a pin cushion"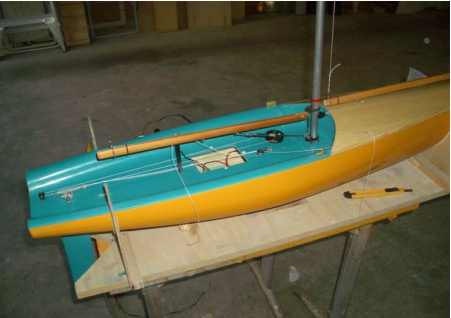 Aussie Green and Gold paint scheme.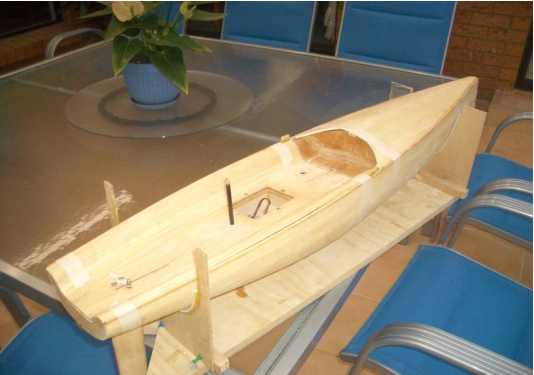 Peter: " Glassing the balsa with West System epoxy was easy. Final weight of the boat with all deck fittings in place and a bit of paint – 612 gms – well within budget. The whole shell of the boat including the foredeck is just so stiff and strong – 3mm balsa over shadows – pre primed inside and out with Wests diluted 10% with MEK (Don't tell Mr West – they don't approve but it works so well over balsa) – then 3oz satin glass cloth on the outside using full strength West and 3/4oz glass cloth inside with 5% MEK dilution"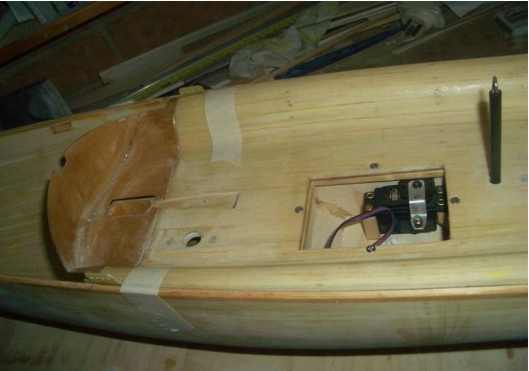 " Realising why the foredeck overlaps the cockpit – to provide a place for the mast ram - I had cut 50mm off the cockpit balsa moulding and then had to add the extra 50mm back in 0.6mm ply – while difficult it proved to be very strong and so eliminated the need for deck beams to hold the mast and keel box."
" Drilling the holes for the winch – the tolerance between screws and centreline of the pulley axel are very close - I ended up making a template and drilling through it"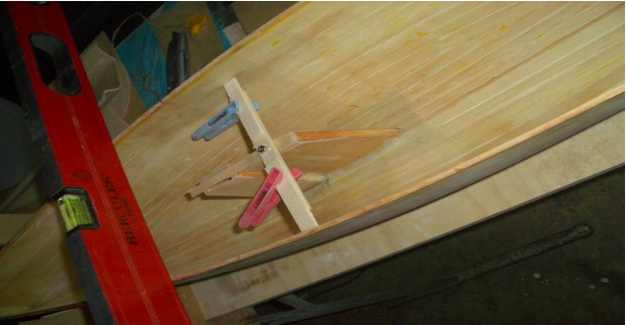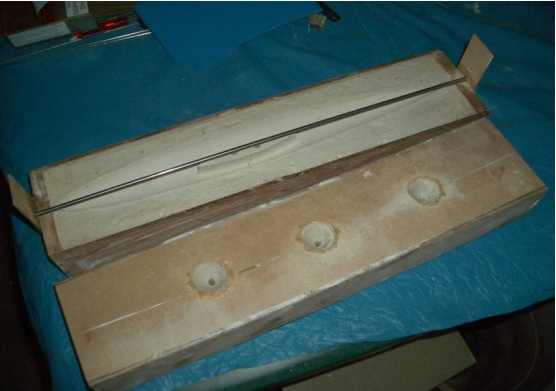 The plaster bulb mould ready for pouring. "The name FAT NOUX comes from the extra in the beam and the thickness of the keel – I poured the keel lead and it had to happen – FAT keel – 2.5 Kg out of the mould so a lot of shaving with the wood plane and its down to the budget figure on your web site."

Ball race mast head fitting for crane, sail uphaul with the ability to adjust the tension on the mainsail jack stay.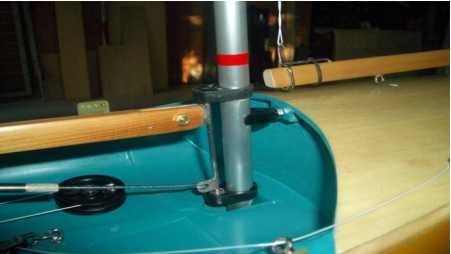 Boom and vang fitting with ball races – works so smoothly
Pictures and text by Peter Trimmer, Australia.