Update 2015-03-01: by popular demand, IGES files for the top and bottom bulb mould. Use at your own risk.
bulb Dated 2003-05-01. If you don't have a CAD program that opens these, you can use an online IGES viewer to view the files.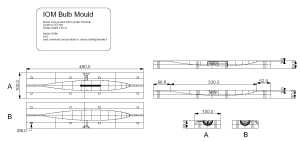 Our bulb moulds are CNC milled from aluminium and more than 15 bulbs have been made successfully from them.
Note that it could be useful to make the hole through which lead is poured in a little larger than shown on the plan.

Update 2004 July: Others experience with this CAD file is that with a cnc milled mould to these dimensions the bulb will come out slightly heavy (2600g) if you use pure lead(density 11.3 kg/dm3) as the material. We have used lighter (ca 10-10.5 kg/dm3) lead which includes other metals to make it slightly stronger.
Many persons have asked more about the bulb moulds and bulb making featured on my picture page so I decided to put the plans here.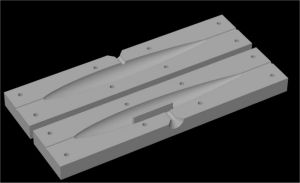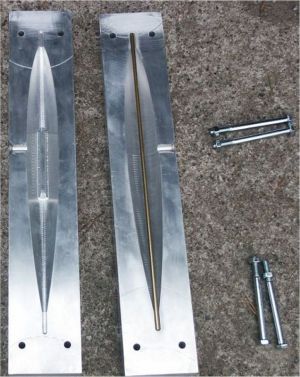 Based on the CAD representation on the left we were able to persuade a machinist to CNC mill moulds for us (right) in aluminium.
Update 2005 October: An anonymous reader sent me this pictures of his own CNC effort. The material is at present unkown and it is unkown if it can take the heat from molten lead...