I ran y-cruncher on a number of machines. Note the logarithmic y-axis. Lower is faster.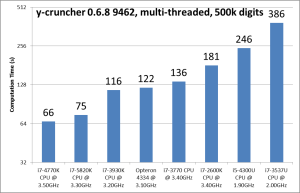 i7-3537U, 2.5 years old Lenovo yoga laptop. Runs hot. Time to upgrade?
i5-4300U, ~1 year old work laptop, HP ultrabook. Runs much cooler.
i7-2600K, 3+ years old home desktop
i7-3770, 2.5 years old work desktop
Opteron 4334, Del R515 server, 1? year old.
i7-3930K, computing machine at work, 3+ years old
i7-5820K and i7-4770K newest lab computers, both 1 year old.