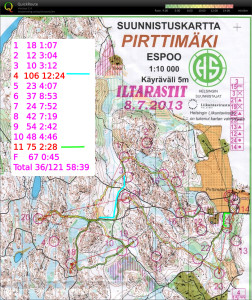 Problems on two out of  the eleven controls yesterday. These also show up as the worst placings in the split times.
The #3-#4 (17-18 on the map) leg should have been a straightforward run along paths. However I took a short-cut from the path too soon and crossed about 1/3rd of the leg through the woods. Then right inside the control circle I ran past the control almost to the road south of it before returning. The blue line shows the path I should have taken.
On the very last control (14 on the map) it would have been clearly faster to return to the road (green line) and not go straighter through the light-green (thick) area.