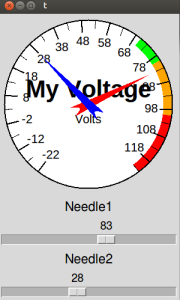 By popular demand, a quick hack that modifies the pyVCP meter widget to have two independent needles. It's used inside the <meter> tag by specifying <halpin2>"my2ndpin"</halpin2> and hooking up something to that pin. If <halpin2> is not used meter works as before, showing only one needle.
There's an XML file for this test-panel, a short HAL-file that hooks up the pins, and a shell script to run it all here: pyvcp_dual-needle-test
The modifications to linuxcnc source required are in lib/python/pyvcp_widgets.py: 0002-dual-needle-meter-use-with-halpin2-meter2-halpin2.patch
NOTE: This is a quick hack to make it work - don't take my code/patch too seriously...