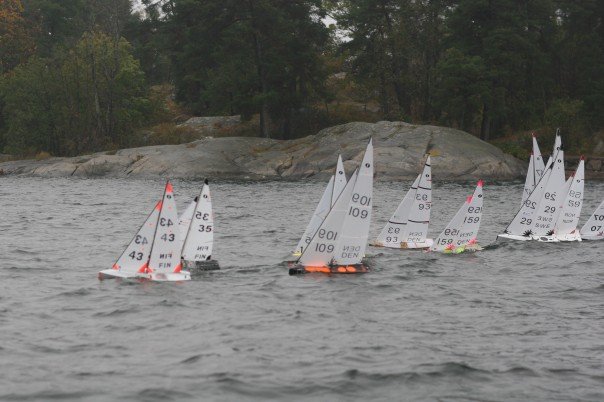 (photo by J Wikman)
SRSS hosted this year's IOM Nordic Championships in Saltsjöbaden, Stockholm. A new record was set when 37 skippers (19 SWE, 10 NOR, 4 DEN, 4 FIN) showed up! A good thing, since the nordic events are now growing to be even more relevant practice for large championships like Euros and Worlds.
Saturday started out grey with no2 rig, and we got some rain in the middle of the day with everyone changing up to no1 rig for the afternoon. Sunday was dry with a bit of sunshine and no2 rig the whole day. 17 races were completed with five different A-heat winners. I threw away at least one good chance of my own when the jibsheet got stuck on a badly designed mast-ram when I was rounding the last leeward mark with a good lead towards the end of Saturday...
A lot of new boats: Torvald Klem (NOR) sailed a Jeff Byerley Extreme into a comfortable win. Second place Sören Andresen (DEN) has a new wooden boat with modified front sections. I sailed the new Noux Mk2, but was pushed back from my usual third into fourth place by one J Hellberg (SWE), who with the help of two boats and three discards took third. I'm taking comfort in that I had the second lowest throw-outs after Torvald, which in the long run is a Good Thing. Fifth was Gunnar Karslen with a not-so-new TS-2, showing that the ca. 1992 designed TS-2 with original fin and rudder is still a good boat.
I've now found a mast position on the Noux which results in good balance upwind, but I seemed to loose on the runs. I've done this by moving the mast forward at deck-level, so this also increases aft mast rake. Perhaps I should look for the same balance, but with a more upright mast to balance upwind and downwind speed?
Pictures here, here, and here. Results from SRSS's site.